/assets/MEE/svg/default.svg
Press Release
December 21, 2018Press Release
Mass. Eye and Ear Specialists Recognized by Boston Magazine as 2019 Top Docs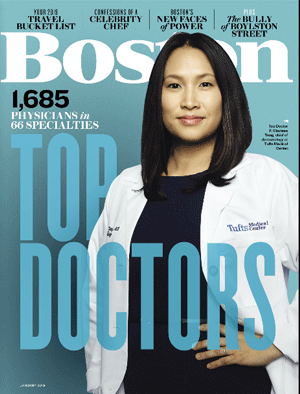 Boston magazine has recognized the following Mass. Eye and Ear specialists in its 2019 "Top Doctors" issue:
Ophthalmology
Linda Dagi, MD
Reza Dana, MD
Dean Eliott, MD
Melanie Kazlas, MD
Jan Kylstra, MD
Joan Miller, MD
Shizuo Mukai, MD
Roberto Pineda, MD
Joseph Rizzo, MD
David Wu, MD, PhD
Michael Yoon, MD
Lucy Young, MD, PhD
Otolaryngology
Samir Bhatt, MD
Jean Bruch, DMD, MD
Daniel Deschler, MD
Kevin Emerick, MD
Richard Gliklich, MD
Stacey Gray, MD
Alex Grilli, MD
Tessa Hadlock, MD
Eric Holbrook, MD
Hani Ibrahim, MD
Paul Konowitz, MD
Derrick Lin, MD
Michael McKenna, MD
Brian Park, MD
Gregory Randolph, MD
Steven Rauch, MD
Jeremy Richmon, MD
Noah Siegel, MD
Phillip Song, MD
Mark Varvares, MD
D. Bradley Welling, MD, PhD
Pediatric Otolaryngology
Michael Cohen, MD
Christopher Hartnick, MD
Leila Mankarious, MD
Dermatology
Jessica Fewkes, MD
Neuroradiology
Mary Beth Cunnane, MD
Hugh Curtin, MD
View Boston magazine's complete 2019 Top Docs listing.
About Massachusetts Eye and Ear
Massachusetts Eye and Ear, founded in 1824, is an international center for treatment and research and a teaching hospital of Harvard Medical School. A member of Partners HealthCare, Mass. Eye and Ear specializes in ophthalmology (eye care) and otolaryngology–head and neck surgery (ear, nose and throat care). Mass. Eye and Ear clinicians provide care ranging from the routine to the very complex. Also home to the world's largest community of hearing and vision researchers, Mass. Eye and Ear scientists are driven by a mission to discover the basic biology underlying conditions affecting the eyes, ears, nose, throat, head and neck and to develop new treatments and cures. In the 2018-2019 "Best Hospitals Survey,"U.S. News & World Report ranked Mass. Eye and Ear #4 in the nation for eye care and #6 for ear, nose and throat care. For more information about life-changing care and research at Mass. Eye and Ear, please visit our blog, Focus, and follow us on Instagram, Twitter and Facebook.