/assets/MEE/svg/default.svg
Press Release
October 2, 2018Press Release
Nicholas J. Butler, MD, Joins Mass. Eye and Ear Uveitis Service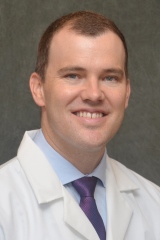 Boston, Mass. — Nicholas J. Butler, MD, a board-certified ophthalmologist specializing in uveitis and ocular inflammatory diseases, has recently joined Massachusetts Eye and Ear. Dr. Butler is currently accepting new patients at the Mass. Eye and Ear, Longwood location (800 Huntington Avenue, Boston).
"Uveitis is a complex condition with the potential to adversely impact not just the eye, but other organ systems as well, if it is just one part of a broader disease," Dr. Butler said. "I feel privileged to partner with these brave patients in helping them unravel the mystery of their diverse symptoms, understand the implications of their diagnosis and navigate the complex landscape of therapy. I am also excited to serve them in the broader context of such a world-renowned eye hospital as Mass. Eye and Ear."
Dr. Butler's clinical interests include systemic inflammatory diseases that affect the eyes, as well as infectious causes of uveitis. He has particular expertise in treating inflammatory macular edema with systemic therapies when local corticosteroids are either ineffective or not recommended. He also has a passion for clinical education and enjoys mentoring ophthalmology residents and fellows.
Dr. Butler earned his medical degree from the McGill University Faculty of Medicine and completed his residency in ophthalmology at Rhode Island Hospital, the major affiliate of the Warren Alpert Medical School at Brown University. He served as Chief Resident during his final year of training. Between residency and fellowship, Dr. Butler pursued interests in international ophthalmology, providing medical and surgical eye care to underserved patients in Southern India. Subsequently, he completed a fellowship in Uveitis and Ocular Immunology at the Casey Eye Institute, Oregon Health and Science University.
To make an appointment with Dr. Butler, request one online or call 617-573-3202.
About Massachusetts Eye and Ear
Massachusetts Eye and Ear, founded in 1824, is an international center for treatment and research and a teaching hospital of Harvard Medical School. Specializing in ophthalmology (eye care) and otolaryngology-head and neck surgery (ear, nose and throat care), Mass. Eye and Ear clinicians provide care ranging from the routine to the very complex. Also home to the world's largest community of hearing and vision researchers, Mass. Eye and Ear has pioneered new treatments for blindness, deafness and diseases of the head and neck. Our scientists are driven by a mission to discover the basic biology underlying these conditions and to develop new treatments and cures. In the 2018-2019 "Best Hospitals Survey," U.S. News & World Report ranked Mass. Eye and Ear #4 in the nation for eye care and #6 for ear, nose and throat care. For more information about life-changing care and research at Mass. Eye and Ear, please visit our blog, Focus, and follow us on Twitter and Facebook.