/assets/MEE/svg/default.svg
Press Release
September 26, 2018Press Release
Matthew Naunheim, MD, MBA, Joins Mass. Eye and Ear Laryngology Division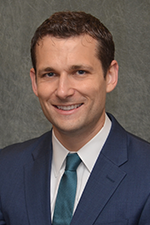 Boston, Mass. — Matthew Naunheim, MD, MBA, a fellowship-trained laryngologist specializing in voice, airway, laryngeal cancer and swallowing disorders, has recently joined the Laryngology Division of Mass. Eye and Ear. He is currently accepting new patients at Mass. Eye and Ear's main campus (243 Charles Street, Boston).
"Mass. Eye and Ear provides the best care anywhere for ear, nose and throat conditions," Dr. Naunheim said. "I am honored to be able to share my expertise with this community."
Dr. Naunheim earned his medical degree from Harvard Medical School and his MBA from Harvard Business School. He subsequently completed his residency training in otolaryngology at Mass. Eye and Ear/Harvard Medical School, followed by fellowship training in laryngology at the Icahn School of Medicine at Mount Sinai.
In his research activities at Mass. Eye and Ear, Dr. Naunheim studies patient quality-of-life outcomes in surgery using advanced valuation techniques to quantitatively assess patient preferences. His past work has used these techniques to establish tradeoffs between risk of complication, likelihood of surgical success and postoperative voice quality for laryngo-tracheal surgery. These innovations all have the potential to directly impact the practice of laryngology by providing a better understanding of patient preferences.
To make an appointment with Dr. Naunheim, request one online or call 617-573-4402.
About Massachusetts Eye and Ear
Massachusetts Eye and Ear, founded in 1824, is an international center for treatment and research and a teaching hospital of Harvard Medical School. Specializing in ophthalmology (eye care) and otolaryngology-head and neck surgery (ear, nose and throat care), Mass. Eye and Ear clinicians provide care ranging from the routine to the very complex. Also home to the world's largest community of hearing and vision researchers, Mass. Eye and Ear has pioneered new treatments for blindness, deafness and diseases of the head and neck. Our scientists are driven by a mission to discover the basic biology underlying these conditions and to develop new treatments and cures. In the 2018-2019 "Best Hospitals Survey," U.S. News & World Report ranked Mass. Eye and Ear #4 in the nation for eye care and #6 for ear, nose and throat care. For more information about life-changing care and research at Mass. Eye and Ear, please visit our blog, Focus, and follow us on Twitter and Facebook.