/assets/MEE/svg/default.svg
Press Release
October 15, 2018Press Release
Janey L. Wiggs, MD, PhD, Elected to the National Academy of Medicine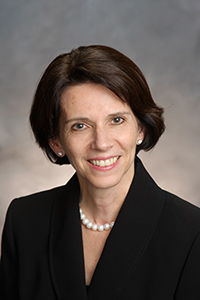 Boston, Mass. — Janey L. Wiggs, MD, PhD, the Paul A. Chandler Professor of Ophthalmology and Associate Director of the Ocular Genomics Institute at Harvard Medical School, and the Associate Chief for Clinical Research in Ophthalmology and Interim Glaucoma Service Director at Massachusetts Eye and Ear, has been elected to the prestigious National Academy of Medicine (NAM). An internationally recognized medical geneticist and ophthalmologist specializing in glaucoma, Dr. Wiggs has been elected to the NAM for her research and achievements in the field of ocular genetics, including the discovery of multiple genetic and environmental risk factors for glaucoma, and for developing and implementing genetic testing for inherited eye disease.

"I am truly honored to be elected to the National Academy of Medicine," said Dr. Wiggs. "I look forward to contributing my expertise to the NAM mission to improve healthcare on a national and global level."

Established in 1970 by the National Academy of Sciences, the NAM is a national resource for independent, scientifically informed analysis and recommendations on health issues. NAM serves alongside the National Academy of Sciences and the National Academy of Engineering to address critical issues in health, medicine and related policy and to inspire positive action across sectors.

Among her many contributions, Dr. Wiggs studies the genetic underpinnings of glaucoma as well as other inherited ocular disorders. Using a collaborative and multidisciplinary approach, she has identified genetic factors that underlie various forms of glaucoma, including adult onset primary open-angle glaucoma, pseudoexfoliation glaucoma, juvenile open angle glaucoma and others. Her research has provided critical new insights regarding the biology of the disease.

In the Glaucoma Service at Mass. Eye and Ear, Dr. Wiggs maintains a clinical practice specializing in complex and inherited glaucoma. She also directs a clinical diagnostic laboratory, where patients are tested for mutations in genes that can cause inherited retinal disorders, early-onset glaucoma or primary optic neuropathy.

Dr. Wiggs attended Harvard Medical School and completed her residency in the Harvard Ophthalmology Residency Training Program. She then completed fellowship training in glaucoma and medical genetics at Massachusetts Eye and Ear and Tufts University School of Medicine, respectively. She is board-certified in both Ophthalmology and Medical Genetics.

Dr. Wiggs lectures nationally and internationally and is the recipient of numerous awards, including the Alcon Research Institute award, the Lew R. Wasserman Merit Award from Research to Prevent Blindness and is a member of the Glaucoma Research Society, the American Ophthalmological Society and the Academia Ophthalmologica Internationalis. She instructs residents, fellows, and medical students in the Glaucoma Service at Mass. Eye and Ear and is a past recipient of the MEE Teacher of the Year Award. She has also organized two, full-day symposium addressing specific issues of human inherited ocular disease.

With a current membership of more than 2,000, the NAM elects no more than 70 national and 10 international members each year. New members are elected by current active members through a selective process that recognizes eminent professionals who have made major contributions to the advancement of the medical sciences, health care, and public health and who are committed to volunteer service in activities of the National Academies of Sciences, Engineering, and Medicine.

"Dr. Wiggs is a superb clinician scientist, and her pioneering research has provided important insights into retinoblastoma, glaucoma and other inherited eye diseases," said Joan W. Miller, MD, the David Glendenning Cogan Professor and Chair of Ophthalmology at Harvard Medical School, Chief of Ophthalmology at Massachusetts Eye and Ear and Massachusetts General Hospital and a member of NAM. "She has led multiple multinational collaborative studies in glaucoma genetics and is also a treasured mentor and teacher. I am thrilled to welcome my colleague to the Academy, where I have no doubt that her professional service and leadership will become a unique and supreme asset for the NAM."
About Massachusetts Eye and Ear
Massachusetts Eye and Ear, founded in 1824, is an international center for treatment and research and a teaching hospital of Harvard Medical School. Specializing in ophthalmology (eye care) and otolaryngology-head and neck surgery (ear, nose and throat care), Mass. Eye and Ear clinicians provide care ranging from the routine to the very complex. Also home to the world's largest community of hearing and vision researchers, Mass. Eye and Ear has pioneered new treatments for blindness, deafness and diseases of the head and neck. Our scientists are driven by a mission to discover the basic biology underlying these conditions and to develop new treatments and cures. In the 2018-2019 "Best Hospitals Survey," U.S. News & World Report ranked Mass. Eye and Ear #4 in the nation for eye care and #6 for ear, nose and throat care. For more information about life-changing care and research at Mass. Eye and Ear, please visit our blog, Focus, and follow us on Twitter and Facebook.
About Harvard Medical School Department of Ophthalmology
The Harvard Medical School Department of Ophthalmology (eye.hms.harvard.edu) is one of the leading and largest academic departments of ophthalmology in the nation. More than 400 full-time faculty and trainees work at nine Harvard Ophthalmology affiliate institutions, including Massachusetts Eye and Ear, Schepens Eye Research Institute of Massachusetts Eye and Ear, Massachusetts General Hospital, Brigham and Women's Hospital, Boston Children's Hospital, Beth Israel Deaconess Medical Center, Joslin Diabetes Center/Beetham Eye Institute, Veterans Affairs Boston Healthcare System, VA Maine Healthcare System, and Cambridge Health Alliance. Formally established in 1871, the department has been built upon a strong and rich foundation in medical education, research, and clinical care. Through the years, faculty and alumni have profoundly influenced ophthalmic science, medicine, and literature—helping to transform the field of ophthalmology from a branch of surgery into an independent medical specialty at the forefront of science.