/assets/MEE/svg/default.svg
Press Release
October 10, 2018Press Release
Dunia E. Abdul-Aziz, MD, Joins Mass. Eye and Ear Otology and Neurotology Division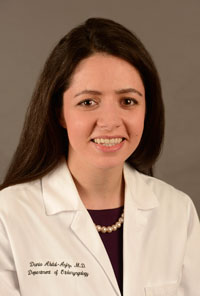 Boston, Mass. — Dunia E. Abdul-Aziz, MD, a board-certified otolaryngologist and fellowship-trained hearing and balance specialist, has recently joined the Otology and Neurotology Division at Mass. Eye and Ear. She is currently accepting new patients at the main campus of Mass. Eye and Ear (243 Charles Street, Boston) and Newton (2000 Washington Street, Green Building Suite 668, Newton) and Wellesley (65 Walnut Street, Wellesley) locations.
Dr. Abdul-Aziz received her bachelor's degree in biochemical sciences from Harvard University and her medical degree from Harvard Medical School, jointly with MIT, as part of the combined Health Sciences and Technology (HST) program. She completed her internship in general surgery at Massachusetts General Hospital, followed by her residency in otolaryngology and fellowship in neurotology and skull base surgery at Mass. Eye and Ear/Harvard Medical School. She now serves on the faculty of Harvard Medical School as an Instructor in Otolaryngology.
Her clinical interests include hearing loss, chronic ear disease, eustachian tube disorders, vestibular disorders and tumors and other diseases involving the lateral skull base. She has also developed clinical skills for management of superior semicircular canal dehiscence and performance of transcanal endoscopic ear surgery.
Concurrent with her clinical activities, she is involved in basic science research focused on sensory hair cell regeneration, seeking to understand and target fundamental developmental pathways to restore hearing. She recently received the Yellen Young Investigator Award from Mass. Eye and Ear.
To make an appointment with Dr. Abdul-Aziz, request one online or call 617-807-7976.
About Massachusetts Eye and Ear
Massachusetts Eye and Ear, founded in 1824, is an international center for treatment and research and a teaching hospital of Harvard Medical School. Specializing in ophthalmology (eye care) and otolaryngology-head and neck surgery (ear, nose and throat care), Mass. Eye and Ear clinicians provide care ranging from the routine to the very complex. Also home to the world's largest community of hearing and vision researchers, Mass. Eye and Ear has pioneered new treatments for blindness, deafness and diseases of the head and neck. Our scientists are driven by a mission to discover the basic biology underlying these conditions and to develop new treatments and cures. In the 2018-2019 "Best Hospitals Survey," U.S. News & World Report ranked Mass. Eye and Ear #4 in the nation for eye care and #6 for ear, nose and throat care. For more information about life-changing care and research at Mass. Eye and Ear, please visit our blog, Focus, and follow us on Twitter and Facebook.