/assets/MEE/svg/default.svg
Press Release
August 21, 2018Press Release
Michael D. Otremba, MD, Joins Mass. Eye and Ear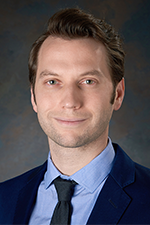 Boston, Mass. — Michael D. Otremba, MD, a general otolaryngologist specializing in the full range of conditions of the ear, nose, throat, head and neck, has recently joined Massachusetts Eye and Ear. Dr. Otremba is currently accepting new patients at Mass. Eye and Ear's Newton (2000 Washington Street, Green Building Suite 668, Newton) and Wellesley (65 Walnut Street, Wellesley) locations.
"What I like most about being a general otolaryngologist is to be at the front lines of treating a broad range of pathologies that impact my patients' quality of life," Dr. Otremba said. "Whether it's caring for patients with chronic ear disease and hearing loss, or with sinus disease and a loss of smell and taste, or with head and neck cancer affecting speech and swallow function, my job is to help patients get back to enjoying these parts of their lives. I'm also thrilled to be joining Mass. Eye and Ear, where I get to be part of such a world-class team of physicians."
Dr. Otremba earned his medical degree from the Yale University School of Medicine and completed his residency in otolaryngology–head and neck surgery at Yale-New Haven Hospital.
At Mass. Eye and Ear, he sees adult and pediatric patients and treats a broad range of conditions from head and neck cancer to chronic ear disease.
To make an appointment with Dr. Otremba, request one online or call 617-630-1699.
About Massachusetts Eye and Ear
Massachusetts Eye and Ear, founded in 1824, is an international center for treatment and research and a teaching hospital of Harvard Medical School. Specializing in ophthalmology (eye care) and otolaryngology-head and neck surgery (ear, nose and throat care), Mass. Eye and Ear clinicians provide care ranging from the routine to the very complex. Also home to the world's largest community of hearing and vision researchers, Mass. Eye and Ear has pioneered new treatments for blindness, deafness and diseases of the head and neck. Our scientists are driven by a mission to discover the basic biology underlying these conditions and to develop new treatments and cures. In the 2018-2019 "Best Hospitals Survey," U.S. News & World Report ranked Mass. Eye and Ear #4 in the nation for eye care and #6 for ear, nose and throat care. For more information about life-changing care and research at Mass. Eye and Ear, please visit our blog, Focus, and follow us on Twitter and Facebook.