/assets/MEE/svg/default.svg
Press Release
August 21, 2018Press Release
Mass. Eye and Ear Named Employer of the Year by Massachusetts Commission for the Blind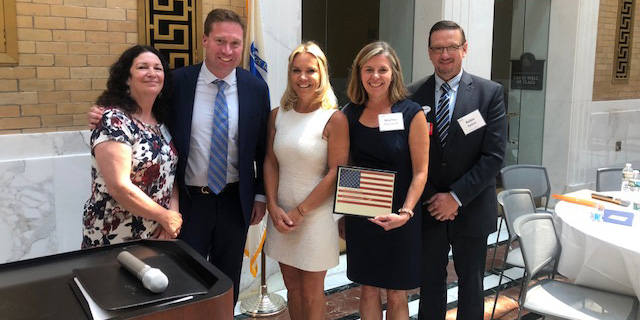 Boston, Mass. — Massachusetts Eye and Ear has been named "Employer of the Year" by the Massachusetts Commission for the Blind (MCB). The award was presented to Mass. Eye and Ear by MCB, who provides service to approximately 27,000 residents of the Commonwealth of Massachusetts who are legally blind. Mass. Eye and Ear received the award at the closing ceremony for MCB's 15th Annual Internship program, held at the Massachusetts State House on August 16th.
Martha Pyle Farrell, Mass. Eye and Ear Senior Vice President for Human Resources, General Counsel and Compliance, accepted the award in recognition of the specialty hospital's commitment to the Project SEARCH program.
"Mass. Eye and Ear is honored and tremendously grateful to receive this honor," Pyle Farrell said. "It is a privilege for us to be a part of this program. We are proud to play a role in preparing the interns for employment success."
During a three-year span, Project SEARCH, a professional job and life skills program for visually impaired adults, provided internship opportunities to those who are often barred traditional entry to work. Interns have supported 25 departments across the hospital to learn new skills, tasks and responsibilities. Mass. Eye and Ear has had 18 interns from the program, 17 of whom have left with competitive employment, and one who graduated with an inspirational volunteer opportunity.
Mass. Eye and Ear has hired five Project Search interns upon graduation. Other companies that have hired Mass. Eye and Ear Project Search interns include the Boston Center for Independent Living, Bay Cove Human Services, the MBTA, MCB and more.
About Massachusetts Eye and Ear
Massachusetts Eye and Ear, founded in 1824, is an international center for treatment and research and a teaching hospital of Harvard Medical School. Specializing in ophthalmology (eye care) and otolaryngology-head and neck surgery (ear, nose and throat care), Mass. Eye and Ear clinicians provide care ranging from the routine to the very complex. Also home to the world's largest community of hearing and vision researchers, Mass. Eye and Ear has pioneered new treatments for blindness, deafness and diseases of the head and neck. Our scientists are driven by a mission to discover the basic biology underlying these conditions and to develop new treatments and cures. In the 2018-2019 "Best Hospitals Survey," U.S. News & World Report ranked Mass. Eye and Ear #4 in the nation for eye care and #6 for ear, nose and throat care. For more information about life-changing care and research at Mass. Eye and Ear, please visit our blog, Focus, and follow us on Twitter and Facebook.