/assets/MEE/svg/default.svg
Advanced Seminar
Myofascial Release for Neck, Voice, and Swallowing Disorders
September 7–8, 2019
Advanced course for application of myofascial release (MFR), when appropriate, as part of the treatment plan for neck, voice, and swallowing disorders, including new research, shared experiences in applying model, and new and deepened existing treatments from the introductory seminar. Included will be opportunities for participants to demonstrate techniques and receive guidance to improve effectiveness.
Course Information
After completion of this advanced seminar the therapist will show the ability to understand and use further variations of myofascial release treatment in the remediation of pain, movement disorders, and voice/swallowing and related disorders.
After successful completion of this workshop, the therapist will:
Be able to adequately explain the effects of manual therapy/myofascial release, with regards to scientific uncertainty.
Be able to apply the existing evidence as it exists for a myofascial release and manual therapy intervention for issues related to voice, swallowing, and related disorders.
Be able to proficiently replicate aspects of the patient's complaints to develop a treatment plan.
Be able to use previously learned treatment techniques and incorporate new treatment techniques to form a well-rounded manual therapy evaluation and treatment intervention strategy.
Be able to move beyond formulaic, introductory intervention strategies toward a more extemporaneous method of intervention.
Participants will be observed and assessed during the hands-on lab portion of the class, as well as monitored for participation and understanding during the lecture/demonstration portion of the class to determine whether the stated objectives have been successfully met.
Successful completion of the Foundations In Myofascial Release Seminar for Neck, Voice, and Swallowing Disorders is required prior to attending this course.
$550 per person
To register, please download, print, and fill out this form.
Mail completed forms to:
Bridget MacLeod, MS, CCC-SLP
Voice and Speech Laboratory
243 Charles Street, 11th Floor
Boston, MA 02114
Please note: No refunds will be issued for any cancellations.
Walt Fritz has the following relevant financial relationship to disclose: He receives royalties from similar course content delivered through Medbridge Massage. He has no relevant non-financial relationships to disclose.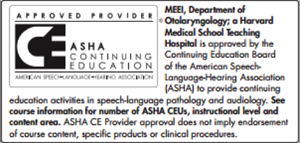 This course is offered for 1.40 ASHA CEUs (Advanced Level; Professional Area).