templatedata/MEE/Location/data/salem.xml
l87eu9cy
35 Congress Street | Suite 211 | Salem, MA 01970
Appointments
Office Hours

Monday to Friday: 8:30 am-5:00 pm
About Mass Eye and Ear, Salem
Under the direction of Meaghan P. Reed, AuD, CCC-A, the Audiology services at Mass Eye and Ear, Salem provide comprehensive hearing health care to people of all ages—infants to adults.
Services
The audiology services at Mass Eye and Ear, Salem—located within Spaulding Outpatient Center Salem—feature a team of specially trained audiologists with one goal in mind: to improve your hearing. Services provided by the team include a full range of hearing tests to evaluate hearing loss and help patients determine the hearing health intervention best suited for their needs. We offer communication needs assessments, hearing device fittings and long-term support.
Our world-class audiologists have the expertise, experience and training needed to help patients make the right decisions and choose the right tools—simple or complex—for their care. The center provides advanced training, rehabilitation and education to make each treatment choice as effective as possible. Our rehabilitative services provide patients with information and tools to maximize performance.
Massachusetts Eye and Ear
Meet Our Team
Transportation Options
Mass Eye and Ear, Salem is located inside the same suite as Spaulding Outpatient Center Salem. Upon arrival, please enter the front entrance of 35 Congress Street using either the ramp or stairs.
After entering the lobby, please take the stairs or the elevator up to the second floor.
If using the elevator, walk down the hallway immediately to the left of the elevator upon arriving on the second floor. If taking the stairs, the hallway will be on the right.
The suite will be straight ahead: Suite 211.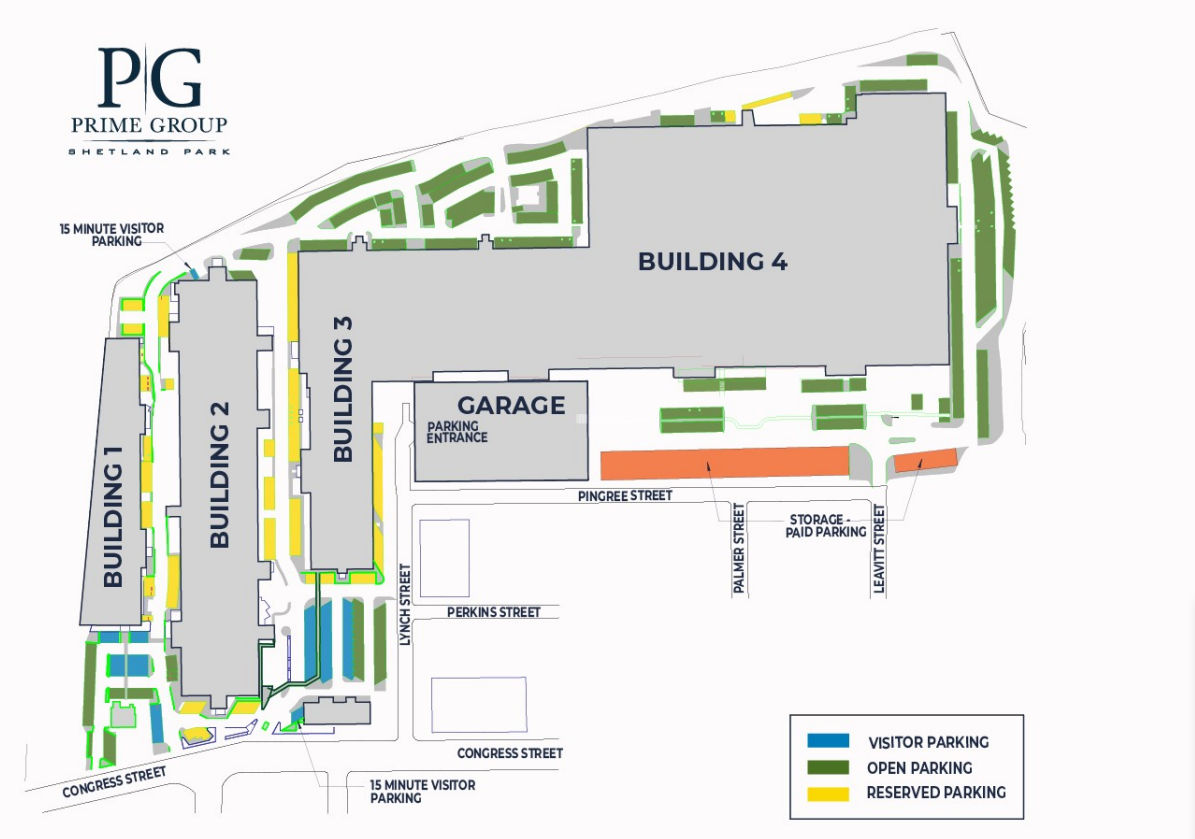 Download a PDF copy of the above diagram
Mass Eye and Ear, Salem is located in Building 2. There are two entrances to the parking lot off of Congress Street. Spaces in yellow on the diagram are Accessible/Reserve Parking and require a disability placard. Spaces in blue are available for patients and visitors and will be marked with signage indicating PG Prime Group 2 Hour Parking.
There are additional spaces for patients and visitors that are marked in green on the diagram. These are not marked with signage, but are considered open parking and are available for use by patients and visitors.
If you require assistance getting into the building, please call our center at 978-825-8700 and we will do our best to assist you.