/assets/MEE/images/mgb-default-thumb.png
COVID-19 Central Airway Problems
Phone number for
Mass Eye and Ear Laryngology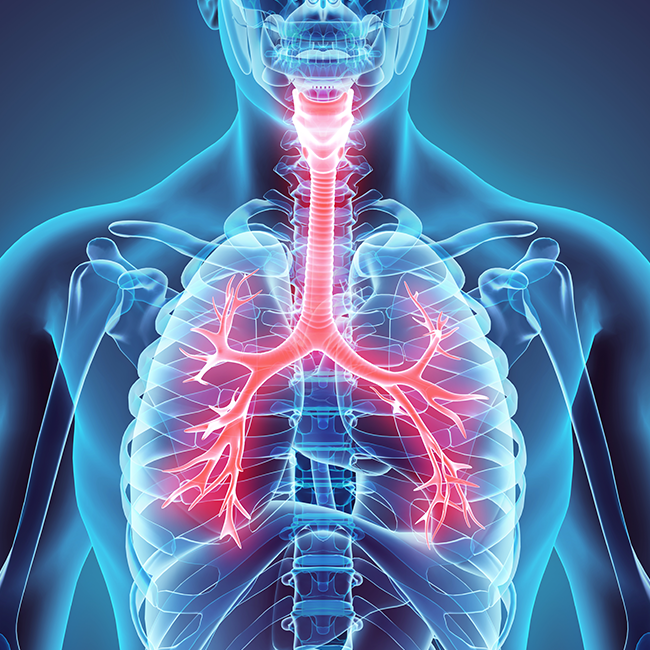 The central airway refers to the respiratory organs that include the throat, trachea and main bronchi. These passages enable large volumes of air into the lungs and distal airways for the exchange of oxygen and carbon dioxide, or breathing. While the impact of COVID-19 in the lungs is highly recognized and studied, the understanding of central airway dysfunction during and after infection is still poorly defined.
Overview of Problem
In the United States, there have been millions of cases of COVID-19, with many resulting in hospitalization and a percentage of these cases requiring intubation and ventilator support. Early studies suggest that approximately 20% of patients who have had intubation or tracheostomy after COVID-19 will have an abnormal laryngeal finding, including vocal fold paralysis and subglottic stenosis (airway narrowing). If not treated early, some of these problems can be permanent. Patients should seek care immediately if experiencing symptoms, and primary care physicians seeing these patients should consider referring them to otolaryngologists for immediate evaluation.
About the Team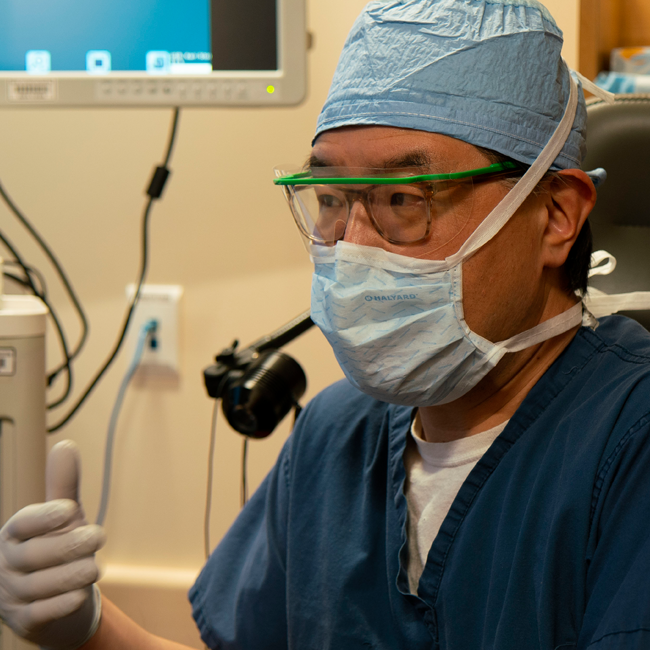 After seeing an increase in these airway problems in the clinic, a group of clinicians came together from multiple disciplines to assess how to best treat and study these COVID-related conditions.
This consortium is led by Phillip C. Song, MD (pictured), and includes members from the following hospitals:
Patient Evaluation and Treatment Options
If a patient is experiencing any of these problems following their hospital discharge, they should immediately be evaluated by a laryngologist or otolaryngologist.
Hoarseness
Voice changes
Cough
Shortness of breath
Noisy breathing
Difficulty swallowing
Throat pain
Foreign body sensation
The evaluation for central airway problems in the larynx and trachea may include imaging such as:
Chest X-rays
CT scans of the neck and chest
Otolaryngology examination
Pulmonary workup
The tests performed by otolaryngologists may include a nasopharyngoscopy or videostroboscopy, which evaluates the larynx with an endoscope.
Pulmonary function testing can be valuable to check for breathing and lung issues. A specialty evaluation by a thoracic surgeon or pulmonologist may be necessary for confirmation of a suspected diagnosis.
The type of laryngeal pathology identified after nasopharyngoscopy include:
Vocal fold weakness and immobility
Stenosis of the larynx and trachea
Scarring of the airway
Infections
Vocal fold masses, such as granulomas and ulcers
Treatment options range depending on each individual case. These may include:
Physical and occupational therapy targeting voice and breathing issues
Medications
Bronchoscopy (a procedure that looks inside the lung airways)
Endoscopic surgery
Open surgery
Resources for Clinicians
Physician members of this consortium are working together to share experiences of acute and chronic central airway diseases associated with COVID-19, and identifying new treatments and processes to quickly identify and treat these patients. They are also gathering data to study outcomes and develop a white paper and position statement on these conditions.
Learn more about COVID-19 research in Otolaryngology-Head and Neck Surgery
Clinicians interested in participating in the consortium and research can contact Mass Eye and Ear Laryngology at 617-573-3557.